Why Syrja & Associates?
Our team consists of some of the top financial professionals within the Greater Toronto Area, who are committed to guiding Canadians toward their financial goals. We use strategies designed to fit your unique needs—whether personal or business—and we work tirelessly to anticipate your evolving financial life to provide true peace of mind.
Our team's diverse background allows us to thoroughly distill down and sift through our clients' needs, wants, and fears, including issues they are unaware will impact them. Equipped with first-class financial planning knowledge and software, we are able to customize their financial plan to maximize wealth, minimize taxes, all while integrating a human touch that is often overlooked in our industry.
---
 

How do you know if we are the right financial team for you?

Syrja & Associates Private Wealth Management has been helping clients and families since 2004, and our team of experts specialize in three type of clients:

 

 

 
What's special about our Financial Planning?
Our team of Planning Professionals look at your whole financial picture and create a customized plan. This plan will be able to adapt to the all the possible changes you may have in your life. Our consultants work with you to develop a plan, creating scenarios to help you achieve your financial goals. This will be possible thanks to our cutting edge planning technology and our team who constantly update and monitor your plan. The 3 keys to make your financial journey easy and secure are:
1. Plan
Our Syrja & Associated financial analysis helps you plan for life events which may impact your financial future.
2. Collaborate
Even greater collaboration with an intuitive and interactive digital experience.
3. Track
Monitor your progress in achieving your goals, including cash flow, net worth and major purchases. 
---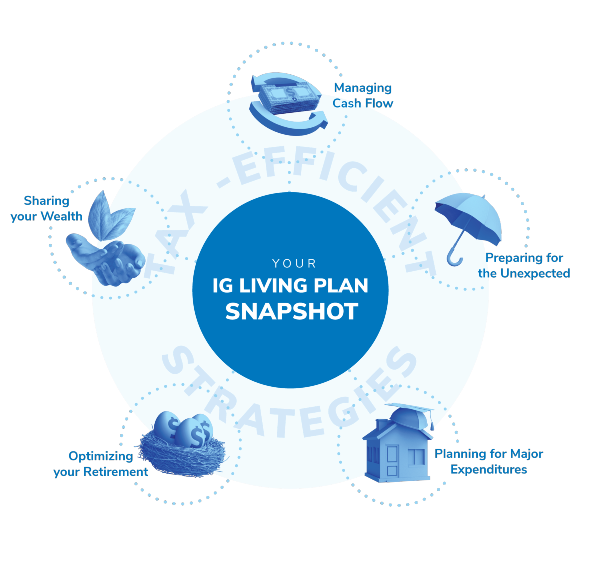 Our goal is to:
Simplify your entire financial life
Create peace of mind by reducing your financial concerns
Guide you through critical financial events    
Deliver tax-efficient strategies across all aspects that improve your financial position
Proactively adjust your plan as opportunities are identified    
Do you want to test your current financial plan?
As part of our unique offering, here's a free online test to evaluate how strong your current financial plan is! Click in the link below
---
Our new IG Living Plan™ is an enhanced digital experience that helps you collaborate with our team in new ways, and test different 'what if' scenarios.
In a rapidly changing world filled with economic uncertainties, you require an even more comprehensive and collaborative approach to financial planning and advice. That's why our head office launched the next generation IG Living Plan™. This powerful digital platform features artificial intelligence, and coupled with the expertise of Syrja & Associate Private Wealth Management, helps you analyze different "what if" scenarios to adjust to your changing needs and goals. From cash management, investments, to insurance and estate planning, the IG Living Plan applies the most tax efficient strategies across all aspects of your financial well-being – today, tomorrow and for future generations.
---
Interested in becoming a Client? Talk to us!